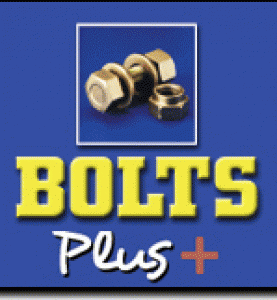 Profile
Contact
Map
Photos
Comments
Video
Bolts Plus Inc. – For All Your Industrial Needs
Toll Free – 1-866-839-5634
Welcome to Bolts Plus Where Experience Counts.Your BEST CHOICE for fasteners and all your industrial and safety supply needs. We pride ourselves on outstanding service & quality product lines. Over 125,000 items in stock. Immediate pick-up from our large showroom OR delivery service. We have what you're looking for, and if we don't, we'll get it for you! \
Bolts All Stainless Nuts Brass Screws Grades Aluminum Metric Washers Nylon Anchors Abrasives Slings and Tie-downs Cable chain chain fittings Adhesives Casters Cable ties Cutting tools Paint Pins Rivets Shipping and Cleaning supplies Strut Tools Threaded Rod Thread repair kits Thread locker and so much more.
Your source for fasteners and all types of industrial, and safety supplies. We have over 125,000 items in stock. Come in for a tour of our warehouse/ pick-up counter and meet the staff in any of our locations. We accept all orders large and small.
ABRASIVES SAFETY TOOLS ADHESIVES AND LUBRICANTS
Services Walk-in counter service from our large showroom/warehouse Delivery service Experienced and knowledgeable staff. More than 125,000 items in stock. We are happy to special-order anything you need, including non-stock items. We Supply Manufacturers production lines Service/Repair vehicles Machine shops Contractors Road crews Construction sites/pits Trades Tool Rooms Welders Millwrights HVAC Farm operators Do-it-yourself-ers YOU!!!

Address
358 Silvercreek Parkway North
Guelph
Ontario
N1H 1E7

Phone
519-823-8886

Cell



Twitter

Facebook