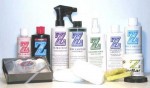 Profile
Contact
Map
Photos
Comments
Video
Zaino Canada – Show Car Polish products are technologically advanced products that we formulated specially for our own and our customers show cars. Show Car Polish products are nothing like the commercial products that everyone else sells, but truly very special products where expense is secondary to results. New molecular-chemistry formulas give Show Car Polish products the wettest-looking, clearest, deepest, longest lasting and highest UV(40) finish protection in the industry, without abrasives or harmful silicones. Plus it is the easiest and fastest polish you will ever use.
There is nothing on the market that compares to Show Car Polish products. Guaranteed!
Our Show Car Polish products have been written up in publications such as Popular Mechanics, Hot Rod, Street Rodder, Truckin, Vette, Popular Hot Rodding, Super Chevy, Corvette Fever and Custom Rodder, just to name a few. We were rated #1 in Corvette World magazine and also Corvette Fever Magazines product test of leading car polishes and waxes for highest gloss, easy to use and longest protection. Here at Zaino Canada, we don't use any fancy advertising, labels or packaging. You will not find our products in stores; we are strictly mail order. This policy lets us continue to use only the finest ingredients and maintain the highest quality.
Zaino Canada products are used worldwide and speak for themselves. Our customers are our best representatives.
Please look over, some of our most popular products. We know they are superior to anything available in the marketplace. You will never know, until you try them. We guarantee you wont be disappointed. You'll be very pleased with all our Show Car Polish products.

Address
325 Eramosa Road
Guelph
Ontario
N1E 2N1

Phone
519-763-8473

Cell



Twitter

Facebook